Lab assistants, research assistants, technicians, scientists – what's the difference?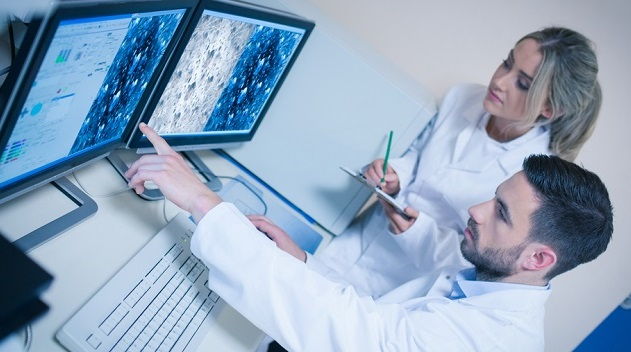 Laboratory Assistants & Laboratory Technicians
Though there is usually no legal requirements as to the qualifications required to work in a general scientific laboratory, those without a formal education are unlikely to be given positions ahead of more qualified applicants. A diploma is usually considered the entry level qualification, though the range of job outcomes are limited at this level. The most common positions obtained with a diploma include laboratory assistant and laboratory technician positions though Bachelor degree holders often apply and are more likely to be granted these positions. Higher research degree holders (Masters, Honours, PhD) rarely apply and are less likely to be given these positions as they are usually considered over-qualified and unlikely to commit long-term, as they ideally desire more advanced positions. A laboratory assistant usually works within a specific group, usually with regular supervision, providing flexible assistance to more senior group members. The potential tasks that may be given to a laboratory assistant are numerous and diverse, dependent on the specific activities of the hosting laboratory. Common tasks often include making reagents, preparing samples, performing routine tests, restocking, cleaning and general house keeping. Laboratory assistant and laboratory technician titles are sometimes inter-changeable with tasks often over-lapping. The title of laboratory technician is often used when the position involves predominantly the maintaining and operating of standard laboratory equipment and responsibility for other technical aspects of overall laboratory operation. In this role laboratory technicians may be employed by an organisation or institute supporting the needs of a number of smaller laboratory groups rather than a single group. In this respect tasks for laboratory technicians may be more repetitive and routine, though job security is often increased compared to a laboratory assistant working for a smaller group. Depending on the laboratory, laboratory assistants and laboratory technicians with significant experience may be promoted to the position of laboratory manager.
Research Assistants
Research assistant positions are usually granted to those with a Masters or Honours research degree qualification on top of a Bachelor degree. Those holding PhD qualifications may be given senior or highly specialist research assistant positions, though in general PhD holders are considered over-qualified. Research assistants participate in research projects usually headed by more senior PhD qualified researchers. Research assistants are expected to engage in advanced laboratory work with minimum supervision, including problem solving, working to strict deadlines, and communicating results to a high level both written and orally. Based on the requirements of the employer a research assistant may also be asked to perform any of the tasks described above for laboratory assistants, though this will likely represent a minor portion of the research assistants time given the cost of employing a research assistant is higher than that of a laboratory assistant.
Laboratory Scientists
Though there is usually no legal requirements as to the qualifications required to work in a general scientific laboratory, depending on the country or state there is often rules as to the qualifications required for professional positions in specialist laboratories where the laboratory practices are directly associated with public health (e.g. pathology, hospital and other clinical laboratories). Such laboratories often use titles such as laboratory scientists, laboratory officers & scientific officers. Laboratory scientists, laboratory officers & scientific officers are in most cases Bachelor degree (or higher) qualified scientists, usually employed on a permanent basis. Qualifications are usually obtained via a highly structured Medical Science, Medical Laboratory Science or Biomedical Science degree consisting of a range of compulsory subjects. These degrees are often independently certified to ensure professional standards are met. Laboratory scientists, etc, may be tasked with performing analyses / screening for bacteriological, biochemical, cytological, hematological, histological or immunological diagnoses.