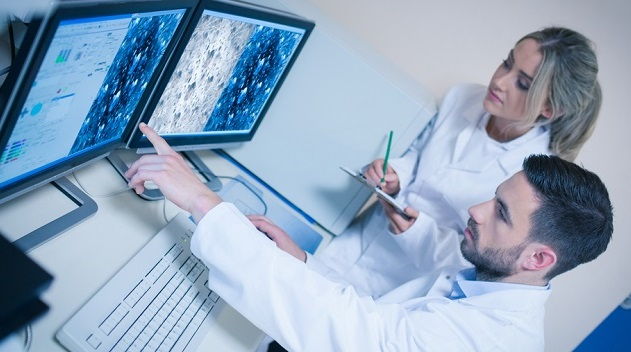 Genes are molecular units of information coding for heritable traits passed on from parents to offspring. Most living organisms encode their genes on long chains of DNA found within the nucleus of the cell. Different genes are 'switched on' in different tissues at different stages of development allowing complex organisms to grow and function. It is thought that humans possess between 20 000 to 40 000 genes. In simple terms, genetics is the study of genes and how they control heritable characteristics and permit variation between species and between individuals within a species. Genetic mutations are thought to be a major driver for evolution whilst genetic disorders account for a significant number of human diseases. The term genome, refers to all the genes (and DNA) for a specific organism. Genomics generally refers to the sequencing and position mapping of genes within the DNA (chromosomes) and the organisation of that information into databases.
Major subjects that may be undertaken in a Bachelor degree providing a strong foundation for the study of genetics include molecular biology, cell biology and biochemistry. Molecular Biology includes the study of the molecular structure as well as the function of DNA, RNA, protein and other molecules associated with the genetic basis of cellular function. Cell biology includes the study of cellular structure, function and formation. From a genetics perspective, cell biology may focus on the compartments within the cell where DNA is stored and the pathways within the cell via which genes are translated into proteins. Biochemistry is the study of the chemical processes and chemical make-up of living organisms. From a genetics perspective, biochemistry may focus on the chemical signaling pathways that initiate gene activation along with the proteins and other molecules that interact with the DNA for synthesis, repair, replication and gene expression.
Genetic engineering involves modifying the genome of an organism to alter its traits. One way that genetic engineering is used to benefit human health involves the use of host organisms, usually in cell culture (bacterial, plant or human cells) to produce products of therapeutic value such as insulin for diabetics. Genetic engineering is often employed by the biotechnology and pharmaceutical industries, providing these industries with enormous scope for economic growth in the future. Universities often design biotechnology degrees in consultation with the needs of the biotechnology and pharmaceutical industries. For those already possessing a science degree, a diploma may be a good way to add up-to-date genetics / biotechnology qualifications on top of an older degree.
With rapidly growing advances in computing power we are seeing the increasing use of bioinformatic approaches to genetic / genomic research. Those wishing to increase their competitiveness by gaining interdisciplinary qualifications in genetics and computer science will have the best career prospects for this rapidly advancing field. Some universities offer pre-designed bioinformatics study programs often with a genetics focus. Other means of acquiring combined qualifications may include Bachelor degrees with double majors, double degrees and Bachelor degree - diploma combinations.
Given the central nature of genetics to human health there is often a steady supply of research positions for higher degree graduates (Honours, Masters, PhD) with genetics experience. Individuals with higher degree experience in genetics are also highly sought after in industry, often migrating to industry once skills and experience acquired in academia can be translated into commercial applications. Other career outcomes may include lecturing, sales and genetic counseling.