3D printing .... the bioprinting revolution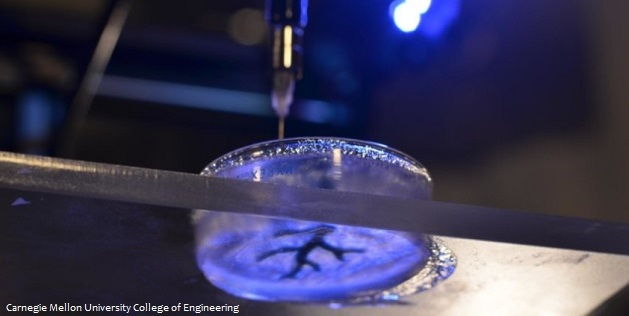 3D printing involves the use of a software program to design a 3 dimensional object for which a printing machine using robotic computer control is then used to create the object by adding one layer of material at a time. Materials may include plastics, glass, metals and even living cells. 3D printing is ideal for making small quantities of unique parts and for testing multiple prototypes. Small parts can be made on a 3D printer the size of a standard desktop printer. When choosing a 3D printer, three important points to consider include the desired material, the cost of the machine, and the speed, though speed is less important in a research environment opposed to a commercial environment. Printers that create metal objects are usually the most expensive, whereas polymer printers (which are likely to be more useful to the biosciences) are cheaper. Medical applications may include dental implants, prosthetics, and more. With respect to tissue engineering, 3D printers could be used to make biodegradable scaffolding for which living cells could be seeded upon. The latest advance is bioprinting involving soft materials (e.g. collagen, fibrin) that would normally collapse under their own weight. To avert this, these materials are printed within a gel. The supporting gel can later be melted away.
The Australian based company Inventia Life Science has invented Rastrum, a high-throughput automated 3D bioprinting platform designed to create reproducible complex 3D cell culture models.
The United States based company Organovo aims to use proprietary 3D bioprinting technologies to generate living human tissues for therapeutic use.
For more on 3D printing in general visit the following:
3D Printer Buyer's Guide
Best 3D Printers 2018